Skip to Content
Academy Founder Mark Weil

WEIL OPENS IN 1997 AS THE FIRST BOARDING ACADEMY IN CALIFORNIA
In the Fall of 2021, Weil Academy will be entering its 25th Year as the premier Tennis Boarding Academy in Southern California.  When our doors first swung open at Weil Tennis Academy & College Preparatory School in June 1997, it was the first and only full-time Boarding School and Tennis Academy program on the entire US West Coast.  Today, Mark, together with his diverse International Coaching Staff, innovative Teaching Faculty, and caring Support Staff never rest in their quest to improve their methods and deepen the positive culture here at Weil, considered by many, to be the most successful full time, high performance tennis academy in the world.
Renowned Tennis Coach, Author and Speaker and Southern California Tennis Hall of Famer Wayne Bryan, Father / Coach of the greatest Men's Doubles Team of all time, Mike and Bob Bryan, has called Weil Academy the "best academy in the world" ;  his nephew Carl attended Weil full-time and he holds Clinics at Weil periodically to run his patented cavalacade of fun games.  Bryan thinks it is Weil's enthusiasm that makes him so special.
"I'm a huge Mark Weil fan. He has enthusiasm, he has charisma, and is a great leader," Bryan said. "He's passionate about tennis, and he cares deeply about the kids. He's honor-bound to do his best to get them a college scholarship, and improve their tennis, and take good care of them. I really admire him really as much or more than anybody in all of tennis."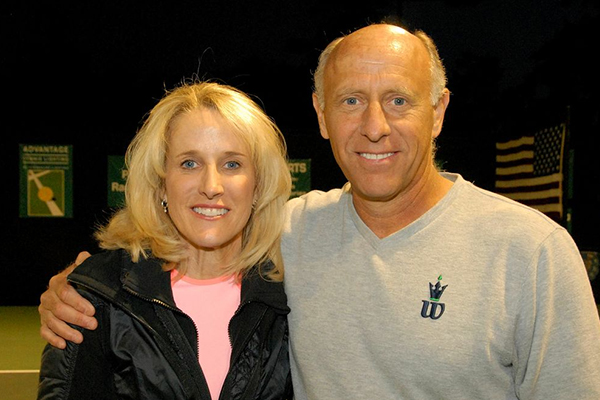 Mark & International Tennis Hall of Famer Tracy Austin at The Ojai!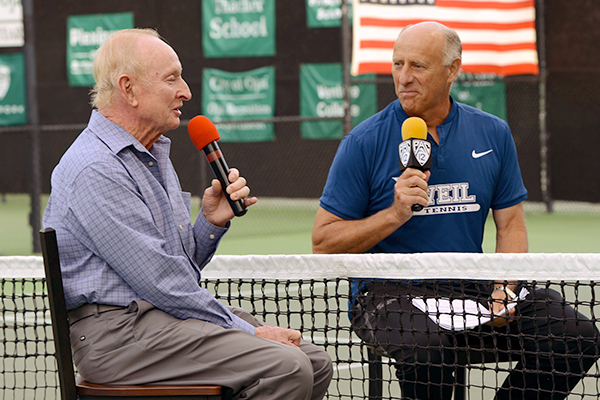 Mark interviews Rod "The Rocket" Laver at the 2017 Ojai Tournament.
Coach Mark was born and raised in New Orleans as an 8th Generation New Orleanian whose family's roots go back to the beginning of the Crescent City.  Coming late to competitive tennis, Mark played his first USTA tournament as a 15 year old.  And he was admittedly awful.
" I couldn't hit a backhand over the net, I double faulted 24 times, I threw up before the match I was so nervous, and I lost 6-0, 6-0 in a very short time: but, something else happened…….I fell in love with tennis that day.  I became a tennis player.  And I couldn't imagine anything cooler than that!  So, I cried a little after the match, then stood up, gritted my teeth and vowed to the Heavens to work my butt off to get good enough to come back and beat this kid who had crushed me that day……a big chip on my shoulder was born that day and it's motivated me my whole life to continue to improve, to get better and better in every way!," Mark recalled.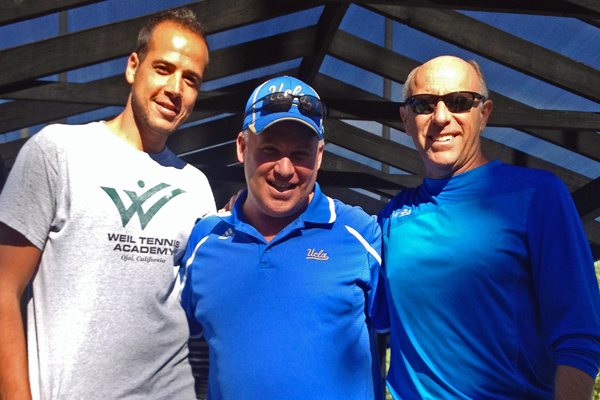 UCLA Men's Head Coach Billy Martin with Mark & Head Coach Mohamed Badran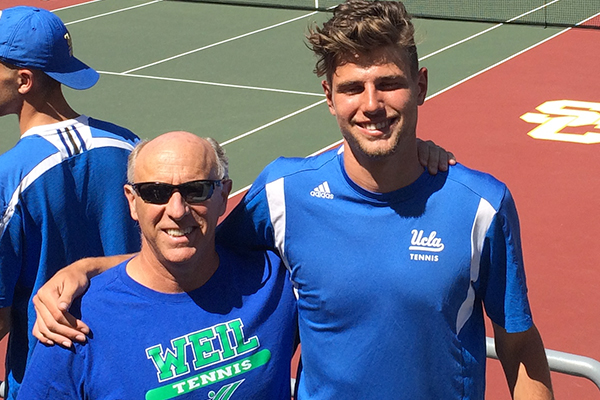 Weil Graduate, UCLA Bruin and NCAA All American Champion Max Cressy.
Coach Mark has fostered special relationships with many Collegiate tennis coaches like UCLA Men's Head Coach & Southern California Tennis Hall of Famer Billy Martin and It is common for these top NCAA coaches to visit Weil Academy and get to know his players.  "When I first opened, I had to beg college coaches to come to the academy and meet our terrific kids," said Weil. "But over the years, we've been able to strike up unique relationships with many, many fantastic college coaches, like Coach Martin at UCLA. These College Coaches know how we prepare our players to be the Best Team Players they can be, so our students are being sought out more than ever by college coaches."
Coach Martin's son Wil enrolled at Weil Academy for his senior year of high school. "Being a college coach for 30 years, I've seen a lot of kids who have come through academies," Martin said. "I had coached players who had attended Weil and heard what a great job Mark, and Coach Mohamed and everyone has done here for many, many years. It wasn't an easy thing to send my son away for his senior year of high school. But he was ready and really wanted to focus on his tennis and achieve his goal of playing college tennis. Our experiences with the Weil Academy have been A+, and I would highly recommend it to any parent considering sending their child to Weil to focus on his and her tennis and place them in a great college.  It's really a no-brainer, and I thank Mark so much."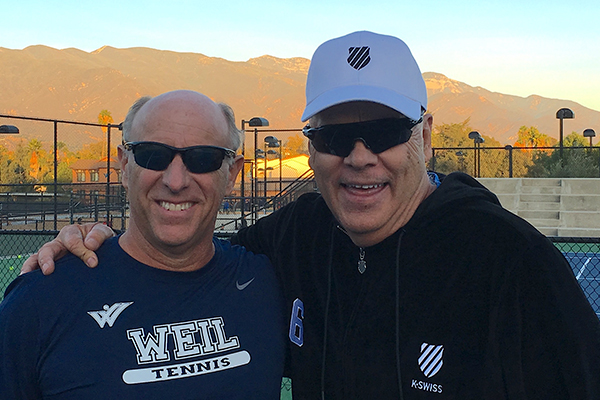 Coach Wayne Bryan was Weil's First Director of Tennis & has been a friend for 25 Years!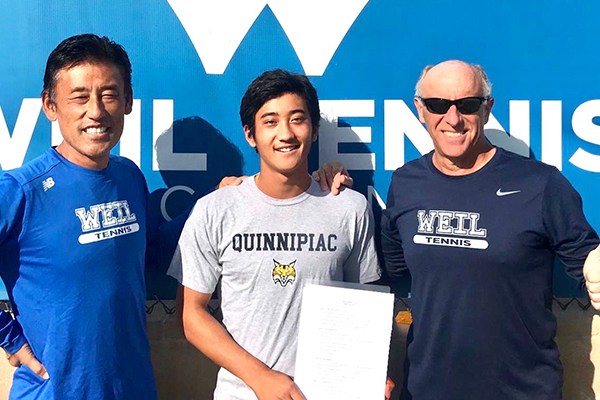 Weil Academy has placed over 400 Graduates in US Colleges!
Mark's dream was to play on a Division 1 college tennis team and so followed his private tennis coach, Dr Don Losman, to the University of Louisiana at Monroe, lettering as a Varsity team member for the Warhawks.
During college, Mark discovered a love of Theater also, acted in several productions while balancing his classroom & tennis team responsibilities, and won Best Actor at ULM for 1980 for his role as the Boy in the musical production of The Fantasticks.
After graduating college, Mark moved to New York City to enroll in a top Acting Conservatory, The Neighborhood Playhouse, where he studied with future Academy Award winner Alison Janney, and many other prominent Televison and Broadway actors, writers and Producers.   Upon completing his studies at the Playhouse, Weil began coaching tennis in New York City and coached both juniors and adults at several prestigious clubs around Manhattan. But his passion for theater was also growing and so Weil founded and served as Managing Director of the Stillwater Theater Company in Manhattan for five years from 1987 to 1991. His company produced 14 American plays in five years and was a critical success.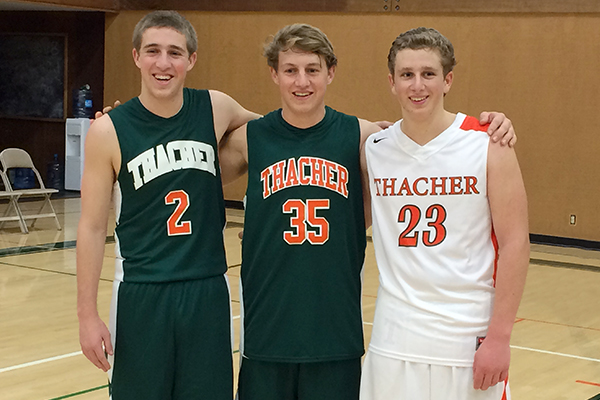 Mark & Jane live in Ojai & have 3 sons:
Jack, Mitch and Pierre who they are very proud of.
Weil boys shown here in their Thacher Basketball uniforms.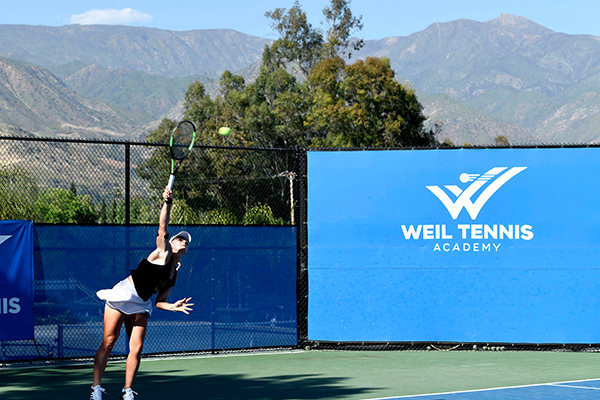 Weil Academy is proud to host the PAC 12 Conference
Women's Tennis Championships every April!
In 1993, Mark and wife Jane, a professional stage manager in New York, moved to Los Angeles where Weil took over a small after-school training program at Mountain Gate Country Club in Brentwood. Within two years, Mountain Gate was the top program in Los Angeles, with over 300 sectionally ranked players and many national players. Coach Mark achieved the highest level of professional coaching in the US completing the USPTA Professional Level 1 Certification, as well as the USTA's High Performance Training Program for Competitive Player Development.  But Coach Weil had a dream: he wanted a bigger challenge and wanted to have a greater impact on the students he coached, and after researching Ojai and several tennis academies in the US, decided to open his own Full-Time Boarding Academy in Ojai.
In 1997, Mark & Jane, with a 1 year old son and pregnant with their second child, made the move to Ojai to open Weil Tennis Academy & College Preparatory School as the first full-time boarding school for junior tennis players on the West Coast of the US.  Since 1997, Weil has prepared and placed over 400 Graduates into some of the most competitive US colleges and college tennis programs, mostly on scholarship.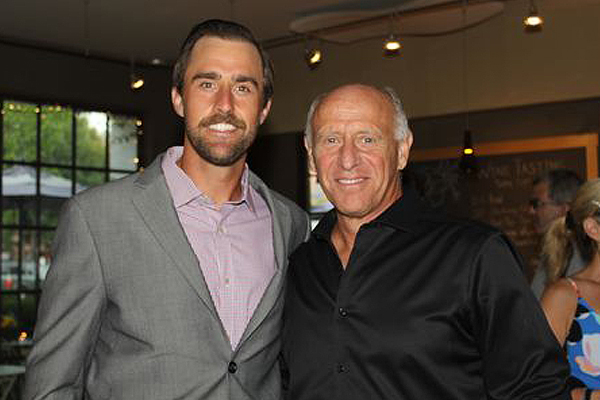 ATP Player Steve Johnson, a 4-Time NCAA Champion at USC, in Ojai with Mark.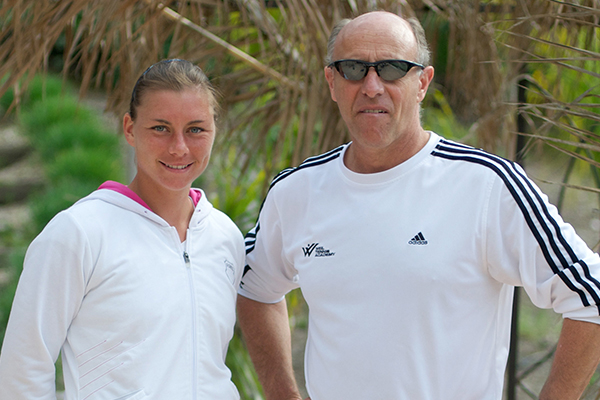 WTA #2 Vera Zvonereva of Russia trained at Weil in her off season.
Coach Mark always felt passionately about college tennis, and designed his Academy School & Training Programs as the ultimate preparation for rigorous college study and team play. Mark and his entire staff focus their energy on the true development of each individual player within a Team dynamic–to truly develop a player's competitive game, and then transform those junior players into tennis champions who Play Amazing!
"The success of players like John Isner ( Georgia), Stevie Johnson ( USC), Mike and Bob Bryan (Stanford), James Blake (Harvard) and Weil's own Maxime Cressy (UCLA) have proven my belief that players can go to college and still succeed at the professional level. At Weil, we maintain a more balanced training approach for our players designed to deliver them to college tennis programs ready to compete, where they will continue to develop under terrific college coaches who will get them to the professional level, if that is their goal." Weil explained.
Coach Mark invites you to come and experience his academy first-hand and see if your child is ready to achieve all of their tennis and academic dreams here at Weil Tennis Academy!
For More Information or to Register
Call Today!